Having lots of books is fun, because you can also keep them for a long period of time. In addition to your personal collection, you also want children and other residents to have the same hobby, namely reading so that their knowledge is extensive. For that you also need to take care of the collection of books that you have. For that, there are 7 wall bookshelf designs to beautify your home. Apart from making the house beautiful, you also make it according to your taste and your creations. Apart from books, you can also add a few knick-knacks and small items to add to your aesthetic value.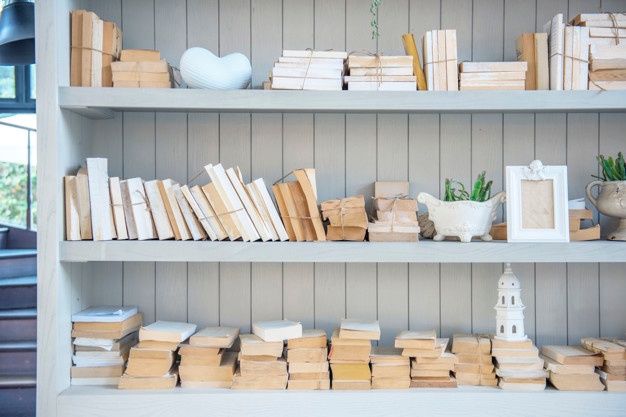 1. World Map Bookshelf
So far you are certainly familiar with world maps, in various subjects and courses you often see them. Of course, a bookshelf design with a world map can be an option for those of you who like unique things. It's a brilliant idea to bring a world map into your home as a container for your book collection. Bookshelves are usually made of wood, which are designed to be similar to the map area you want. You can do it yourself or if you are having trouble then you can ask for help from someone who is an expert in their field. For the choice of shelf color you can adjust it to the floor of the room to match.
2. Hanging Wall Shelf
For those of you who like fantasy movies, you are certainly familiar with various unique things such as floating candles or floating hats. This time you can make a floating book using a floating bookshelf design. This one bookshelf will make your book collection look floating and hanging. Besides looking unique and beautiful, this bookcase is very effective at saving space, especially if you have a room that is not too large. Even to make it very easy, you only need oak and shaped like a hanger. Then stick it to the wall and ready to use to store books.
3. Wooden Trunk Bookshelf
This bookshelf design really represents those of you who like to read and also like plants. You can place this bookshelf in the corner of the room and you can place the book vertically or horizontally or according to your taste. If you want to make the room look more beautiful then you can add a quality sofa in dark colors so that the rustic impression of your minimalist home is even more pronounced.
4. Curved Irregular Bookshelf
Having a straight and flat bookshelf is too ordinary, for a different impression you can choose a bookshelf design with a curved shape. This one bookshelf is made of various materials, you can choose from metal or wood. The choice of color depends on taste, but white is worth considering. Besides looking elegant, bright colors like white also make the room look more spacious. Not only that, its unique shape always steals the attention of everyone who sees it.
5. Invisible Wall Shelf
If you prefer something simple then this invisible wall bookcase design can be an option. This bookshelf is usually called an elbow which is made of metal or iron and is attached to the wall. One elbow can hold a weight of about 6.8 kilograms with a book height of 40 centimeters. It is perfect for those of you who want to save distance, and also you don't have to worry about the shelves falling or being damaged. Elbow bookshelves are known for being strong and sturdy.
For more information about Book cabinet malaysia  , please visit https://furnizone.com