Cable ladder is one of the most flexible solutions for the routing of cables for medium and heavy-duty cable installations in building, production factory and many other outdoor plants for electrical power distribution, control, and communication purpose. The ladder type tray has the cables supported by a traverse bar, similarly to the rungs combined with side railing beam, at regular intervals on the standard order of 300mm or other special requirements like 200mm or 250mm.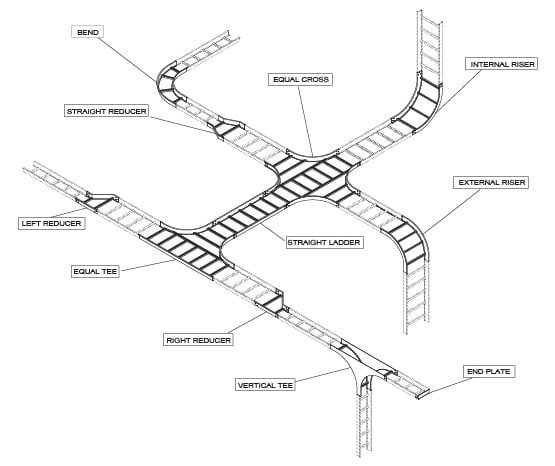 Advantages
You can save installation labour and material costs since cable ladder has increased cable fill compared to other wiring methods.

There's an increased in conductor ampacity because cable ladder has full ventilation that provide big savings in the costs of conductor.

Cable ladder occupies less space rather permits greater spacing between the support hangers, requiring less labour compared to similar conduit and wire system.

Cable ladder has up to three meters support spans that save labour and material support costs.

Metal made cable ladders may be also utilised as ground conductor equipment.

With cable ladder system, cables may enter or drop out at any point in the system ladder even without expensive fittings or boxes.

Permitted within the cable ladder system are cable splices which are accessible and don't project above the tray's top most part.

When you want to add future cables to an existing system of cable ladder, installation is very easy and hassle free. It is also easy to make future cable taps & splices.

Cables are exposed and can be easily seen from top to bottom and this is significant for trace outing or trouble shooting. Cables which are installed can be inspected easily and any cable faults will be located and repaired without totally replacing the original cable run with new ones.

The side rail flanges can protect the cables from any damages.

The designs of the rung permit an easy cable exit (drop out) without the sharp edges that may damage the cable.
For more information about Cable Ladder Malaysia, please visit https://www.uli.com.my/