In general, there are 5 types of air conditioning used widely in residential, office or commercial buildings. Here are the 5 types of air conditioning: –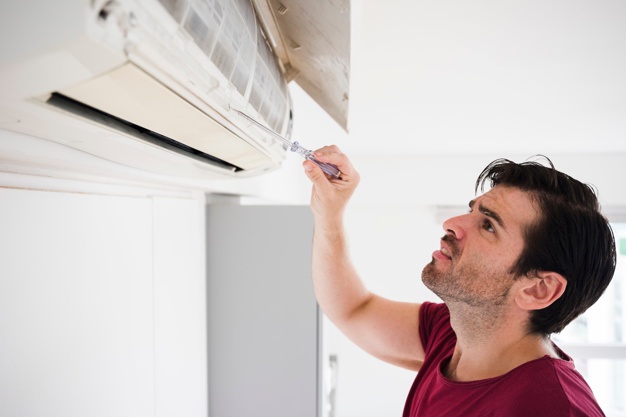 Wall Mounted
Compact and compact, it is ideal for small bedrooms such as bedrooms and a limited living room.
Advantages: 
Modern design with a variety of options. 

Has additional features.

Easy to install. 

Readily available. 
Disadvantages: 
Not suitable for heavy-duty use.
2. Cassette Ceiling
Ideal for small rooms like bedrooms OR larger rooms like offices, restaurants and meeting rooms
Advantages: 
Suitable for installing both small and large rooms. 

Good ventilation with 4-dimensional flow. 
Disadvantages: 
Requires sufficient ceiling plaster or space for ceiling cassette units.
3. Floor Standing
Provides strong winds, ideal for high traffic areas such as shops, restaurants and more.
Pro: 
Easy to install and you don't have to worry about installation as it can be laid on the floor. 

Quick cooling due to its large fan produces stronger winds. 
Cons: 
4. Ceiling Concealed
Air conditioning hidden on or in the ceiling, ideal for rooms without disturbing the interior.
Pro: 
The space looks neat and clean with no air conditioning unit. 
Cons: 
Hard to install because they are hidden in the ceiling. 

Difficult to do maintenance work.
5. Portable Aircond
Can be placed anywhere. Just install the plug and you can continue to use it!
Pro: 
Compact. 

No installation required. 

Can be used both indoors and outdoors. 
Cons: 
Can only be used in small to medium sized spaces. 

Not very efficient when used outside the building. 

Sound greater than Wall Mounted because the compressor is in the air conditioning unit. 

Need to drain hot air
For more information about Servis Aircond Balakong, please visit https://www.kuaircondservice.com/