Cortex Robotics brings you an amazing Machine Vision System. It's like giving eyes to machines! This special system helps machines "see" and understand the world around them. Imagine a robot that can recognize objects, read labels, and even navigate through a room without bumping into things. With Cortex Robotics' Machine Vision System, the future of smart machines is here!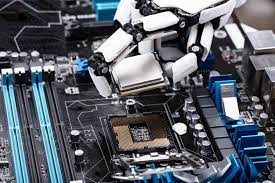 Machine vision systems are a new and powerful technology. They use special cameras, sensors, and smart software to help computers see and understand things, just like people do. These systems are very important and bring lots of good things to different industries like making things, healthcare, cars, farming, and more. This article talks about why machine vision systems are so important and how they affect our lives today.
Quality Control and Inspection:

One of the primary applications of machine vision is in quality control and inspection processes. In manufacturing, machine vision systems can quickly and accurately inspect products for defects, ensuring that only high-quality items reach consumers. This not only reduces the risk of product recalls but also enhances brand reputation and customer satisfaction.

Increased Efficiency:

Machine vision systems can perform tasks at incredible speeds and with precision that human operators simply cannot match. Machine vision makes factories work better and cheaper. It helps electronics, medicine, and food companies make things faster and save money.

Cost Savings:

While initial setup costs for machine vision systems can be significant, the long-term cost savings are substantial. These systems reduce the need for manual labor, lower error rates, and minimize waste. Over time, these savings often far outweigh the initial investment.

Data Collection and Analysis:

Machine vision systems generate a wealth of data that can be invaluable for process optimization and decision-making. They can monitor production lines, track product defects, and provide real-time insights into various parameters. This data-driven approach allows companies to make informed choices and continuously improve their processes.

Enhanced Safety:

In industries such as automotive manufacturing, machine vision plays a crucial role in ensuring worker safety. Robots equipped with machine vision can collaborate safely with human workers, as the system can detect and respond to potential hazards in real-time.

Advanced Healthcare:

Machine vision has found applications in medical imaging and diagnostics. It enables the early detection of diseases, such as cancer, by analyzing medical images with incredible accuracy. This leads to better patient outcomes and lower healthcare costs.

Autonomous Vehicles:

Self-driving cars need special eyes called machine vision systems. These eyes help cars see and know what's around them, so they can drive on their own without accidents. These eyes can find people, other cars, and signs on the road, which makes driving safer.

Agriculture and Food Industry:

Machine vision has revolutionized agriculture by automating tasks such as crop monitoring, sorting, and quality control. In the food industry, it ensures food safety and quality by identifying contaminants and defects in products.

Customization and Personalization:

Machine vision allows for mass customization in manufacturing. Products can be tailored to individual customer preferences without significantly increasing production costs. This level of customization enhances customer satisfaction and brand loyalty.

Competitive Advantage:

Companies that invest in machine vision gain a competitive edge in their respective markets. They can offer higher-quality products, faster production, and more efficient processes, which can attract more customers and lead to market dominance.
In summary, machine vision systems are indispensable across diverse industries including manufacturing, healthcare, and agriculture, elevating productivity, velocity, and safety standards. With the relentless progression of technology, their importance is poised to escalate further, presenting exciting opportunities for early adopters.
Ready to revolutionize your machines? Cortex Robotics' Machine Vision System is the key! Don't wait – unlock the power of sight for your machines today. Contact them now to learn more and take the first step towards smarter automation. Your future with Cortex Robotics begins here!